Tips to Know if a Process Server is Legitimate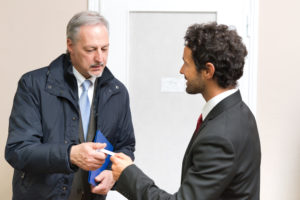 Once your civil case is filed, your next step is to find a legitimate process server to serve the defendants and witnesses in your case. But how can you tell a reputable server from a scammer? Ask yourself the following questions to make sure you're choosing a credible server who won't derail your case:
Are They Certified?
Process servers working in Tampa Bay must be certified by Florida's 13th Judicial Circuit. Certification involves training, passing an examination, posting a surety bond, and more. If the process server you are considering cannot prove certification, then no process that they serve will be considered valid by a Florida court.
Do They Work for a Reputable Agency?
Another way to tell if a process server is legit is to consider the agency they work for and represent. Is it a well-known, long-established agency? Is there anyone there you can contact to verify the server's claims? Do you perhaps know of others who have used the agency's services in the past? Reputable agencies, like Accurate Serve, are careful to only work with experienced process servers.
Are They Upfront About Fees?
Another discussion that should not be swept under the rug is payment. Reputable process servers will be very clear about what they charge and how payment is expected. If the server acts shady about payment, ask for a large amount upfront, or makes you feel uncomfortable about money in any way, move on to the next candidate.
Do They Offer References?
Process servers who have been in the game for a long time will have a list of references to provide you during the initial interview process. This list should contain both previous and current clients who have consented to share their information. Contact the references to verify the server's claims before deciding to hire them.
Legit Process Servers in Tampa Bay
If you want to skip the interviews and go right for the best process servers in Tampa Bay, call Accurate Serve at (813) 544-6900 or send us a work request online. Our team is experienced, ethical, and ready to serve you today!